second life gardner hype cycle curve: fixed
January 23, 2008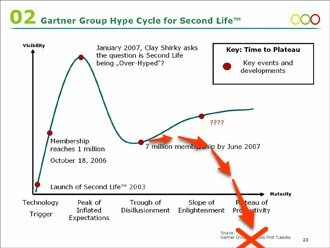 Stumbling again over the Gardner Groups SecondLife hype cycle today I couldn't resist applying this little fix to it. Those which still care for SL will know what i mean. For the others, don't bother, looks like you won't need to watch out for Linden Labs Second Life. Will they ever come back?
Virtual Worlds, mainly in the form of Virtual Goods(GOLD!) will be become bigger and bigger over the years, but this will happen without SL. And rightfully so. Their client is still really bad. No fun in starting it up on my laptop, so i don't.
If you ever checked the super ugly, absolutly non-maintainable source code of SecondLifes OpenSource client, you can't hold back to interpret this as another example of an solution which was not ready to deliver once the markets where ripe for conquer.
have fun
And don't forget: "Use the Source, Luke!"
Technorati Tags: secondlife, hypecycle, gardner