weekend tumblr
September 3, 2007
It will not stay this way and i really like the tumble log format but won't keep up with a daily rythm. Maybe 1.37 times a week on average. Second, i will find another place for this but it must be fully automatic and i have stuff to on my day job, so, i will be cut-and-paste from my tumple notes onto this blog for another while:
Extending "Object.prototype kills kittens", and other insights from John Resig(of jQuery fame) in his one hour Google TechTalk on "Best Practices in Javascript Library Design". Very worthwhile viewing.
"This so-called kid is already almost 40 and has never had a real job.", says Ronald Reagan about George W. Busch.
Marvel Superheros always win because they are better connected. Huh? At least that's what they found in a social-web study ot the fictional Marvel Universe.
watch the video to see 5,000 Web apps in 3 1/2 minutes, but don't blink. You will miss 4 start-ups with a single eye blink, hmm, not a bad rate though.
find a getaway on the map of internet black holes, maledives included. (via vallewag)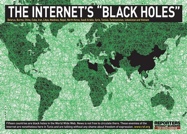 deconstructive SL architecture against the usual boredom on China Tracy's blog. Watch out for falling debris!
flight404 does not get lost in bad taste and continues to put up cool videos.